Dream Catcher
Story
Have you ever had a dream where you're falling deeper and deeper scared and excited of what is down below? Experience the same feeling navigating your personal raccoon through his trippy dreams. Do you have what it takes to handle dreamy physics and uncover their true nature?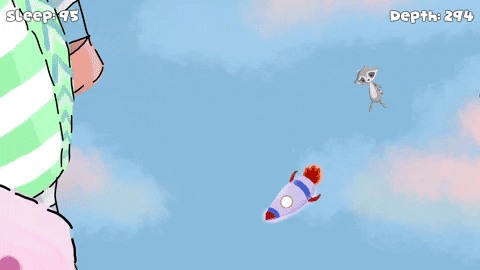 Controls
A/left arrow and D/right arrow to rotate
W/up arrow and S/down arrow to move forward and backward
Space to air dash
Backspace to wake up and start over
P to pause and unpause
Escape to quit
More details in the in-game tutorial.
Make sure to hit Backspace at the end of the tutorial to proceed to the actual game!
Credits
All the contents apart from the font were developed from scratch during the game jam by Mykola Herasymovych (game design, coding, sound, art) and Halyna Oros (game design, art, voice acting, playtesting).

The soundtrack was composed by Mykola Herasymovych during the jam. Check more tracks at https://soundcloud.com/mykola-herasymovych.
The font Cartoon Fun Font was developed by Darrell Flood at https://www.fontspace.com/cartoon-fun-font-f51921 and used under the free license.

Tools used:
Unity3D
Krita
FL Studio
Audacity
Notes
Windows built messes up the initial menu screen position on load but it gets fixed after the first death. We recommend playing the browser version for a smoother experience.
---
Enjoy the game and thank you for playing!
Download
Click download now to get access to the following files:
DreamCatcher_Win.zip
36 MB
DreamCatcher_Mac.zip
48 MB
DreamCatcher_Linux.zip
53 MB
DreamCatcher_Linux_with_bug_fixes.zip
52 MB
DreamCatcher_Mac_with_bug_fixes.zip
47 MB
DreamCatcher_Win_with_bug_fixes.zip
38 MB